Citra, a Cape Town-based design, construction, and property development company, has announced its latest funding round to accelerate its commercial expansion into the United States. With a focus on delivering affordable and sustainable housing solutions, Citra has secured approximately 20 million USD of funding for the research and development of its innovative building technology and pilot projects in South Africa.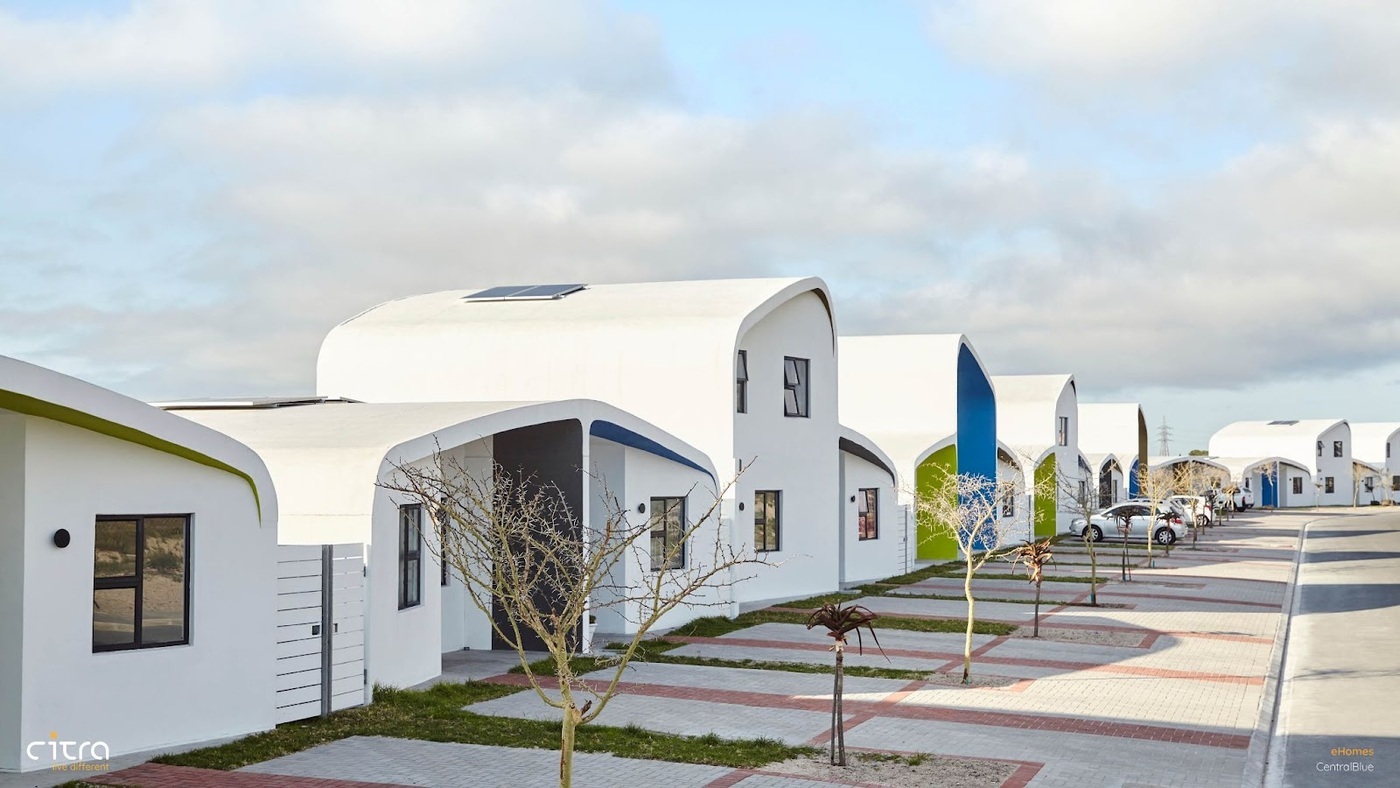 Citra's eHomes, Capetown
With 4,000 residential units in its pipeline in South Africa, Citra is now ready to scale up and expand internationally. Their proprietary building technology incorporates parametric design and finite element analysis, ensuring that homes are strong, durable, and efficient. The company's designs are tailored to the production process, minimizing waste, and manufactured with high-precision CNC machines.
Citra homes have been designed with sustainability in mind, reducing carbon emissions by approximately 50% throughout their lifecycle. The company's building technology is cradle-to-cradle recyclable, ensuring that large portions of the home can be reused. Commenting on the quality and durability of its materials, Joel Baur, co-founder, and CEO of Citra says, "Citra walls are incredibly strong and of high quality, eliminating the need for steel and reducing the external building shell to the absolute minimum. Our 140 mm thick Citra wall has a five times better thermal insulation value than a 260 mm thick cavity wall. Based on the excellent thermal insulation, the Citra technology can easily withstand harsh North American or European winters."
Citra's automation and labor efficient practices are key aspects to what sets it apart from those currently offered in the U.S. The automation can reduce labor by 50-70% and construction time can be reduced from eight to ten months for a conventional timber frame home, when compared to six to eight weeks for a Citra home. "Citra technology surpasses even the latest 3D printing approaches in quality and cost-efficiency" says co-founder Joel Baur.
According to the company, its mission is to improve people's lives through careful design and innovation. With over a billion people living in shacks and informal settlements in inhumane conditions globally, Citra believes it can transform the building industry through its innovative building technology. Citra has already secured land for 4,000 residential units in South Africa and has built over 100 homes to date. Citra has sold over 200 homes and has approximately 150 under construction currently. The company's Capetown order book is well filled for the next 10 years.
Citra's latest funding round will focus on its expansion into the United States. The US market represents a significant opportunity for Citra, with over 7 million homes currently in shortage. After expanding into the United States, Citra plans to explore opportunities in India and Ukraine, where it hopes to alleviate some of the devastation caused to the country's infrastructure. Rapid relief in response to situations such as this, is something that harks back to Citra's origins with the Haiti crisis, with its industry unique implementation of mobile factories in affected areas.

The company's expansion into the United States will allow Citra to bring its affordable and sustainable housing solutions to a wider audience.
The company is committed to scaling its operations rapidly. According to official sources, the company's output has doubled every year, and the staff count has increased significantly. Citra plans to build 120 homes this year, with a pipeline of 300 homes to be completed next year. By the year after that, Citra plans to build between 500 and 600 homes in Cape Town.
Citra's latest funding round represents a significant opportunity for investors to support an innovative company with a mission to improve people's lives through careful design and innovation. "Our aim is to change the building industry through innovation. We offer our clients houses with a totally different experience. We ensure substantially lower emissions and energy consumption throughout the lifecycle, and lower construction costs", says Joel Baur, Founder, and CEO of Citra.
Media contact: Joel Baur
Name: Joel Baur
Email: media@citra.build
Source published by Submit Press Release >> Citra Announces a Funding Round Aiming at Commercial Expansion into the United States