MatrixGPT, An all-in-one AI solution offering a suite of innovative apps including Text-to-image, Image-to-image, Text-to-speech & Talking face has been launched. MatrixGPT harnesses the power of artificial intelligence (AI) to bring imagination to life.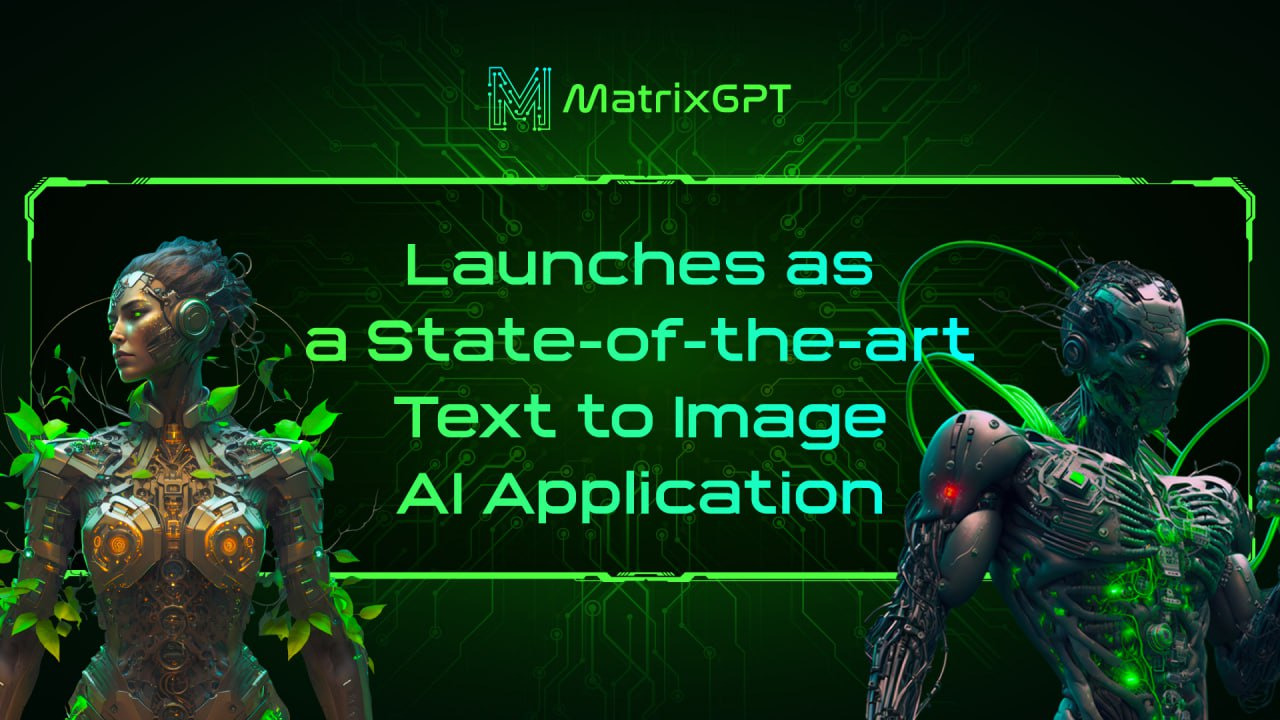 I. The Power of MatrixGPT
1. What is MatrixGPT?
MatrixGPT is an all-in-one AI solution that offers a suite of innovative applications including Text-to-image, Image-to-image, Text-to-speech and Talking face capabilities to help users unleash their creative potential. The Text-to-image capability allows user to turn words into stunning visuals, while the Image-to-image feature allows them to enhance, manipulate and transform existing images to bring their vision to life.
In this phase, MatrixGPT focuses on the MatrixGPT Bot which is an AI-powered text-to-image bot, currently compatible with Telegram. With its seamless user interface and 10+ custom image models of continually improving quality, MatrixGPT bot empowers users to bring their words into visuals, regardless of their level of artistic skill.
2. How to use MatrixGPT bot?
MatrixGPT's deep learning model creates visually plausible images from textual descriptions, making image generation easier and more accessible than ever before.
The only limit is the imagination. Amazing arts are created with simple steps below:
Step 1: Add MAI bot to the Telegram.
Step 2: Type "/IMG" + "Text Prompt".
Step 3: Enter to generate an IMAGE.
II. Monetization with MatrixGPT
MatrixGPT offers unique ways to earn the MatrixGPT system and the most generous Revenue Share program in the cryptocurrency space.

Users can buy and hold $MAI to earn a bonus back. 0.5% of the 1% Buy Tax is converted to BUSD to reward holders. Holders go to the website and claim it each 24 hours.

The innovative staking system allows user to stake $MAI and earn high APR.

$MAI holders can buy NFTs to earn, it can be traded on the NFT marketplaces.

By sharing the works with the Telegram bot, users can reach a global audience and build a following, while users can list them on any creative marketplaces for sale.
III. The MAI token
The Power of the MatrixGPT Ecosystem is truly shown with $MAI - the central token that serves as the key to the MatrixGPT world of limitless earning potential.
1. Token Info
Name: MatrixGPT
Symbol: MAI
Total supply: 1,000,000,000
Blockchain: Binance Smart Chain
2. Tax: 1% Buy/Sell
Buy Tax: 1% (0.5% for Reward pool, 0.5% for Marketing)

Sell Tax: 1% (0.5% for Buyback & Burn, 0.5% for Marketing)
3. Token Distribution
Presale: 50%

Liquidity: 30%

Staking: 5%

CEX listing: 10%

Marketing: 5%
Invest in the future with $MAI today.
IV. Benefits of $MAI holders
1. Prosper Together: Share Taxes, Share Revenue
Holders GET back 0.5% of Buy Tax. 0.5% cut of the 1% Buy Tax is converted into $BUSD rewards for all holders every 24 hours.
Holders GET 20% revenue-sharing from the AI MatrixGPT bot (Premium package fees).
Holders GET 20% revenue-sharing from Ads Service on MatrixGPT bots
2. Free-to-use AI art generator
Holders of the $MAI token will receive unlimited, complimentary access to the image-generating tools.
Currently, all users can use the AI tool to generate an unlimited number of high-quality images for free.
3. AI-powered NFT collection
The collection is created with MatrixGPT's No-Code NFT creation feature which features an easy-to-use, no-code NFT creation tool.
Comprising 10,000 NFTs, the NFT is limited in number but UNLIMITED in the BENEFITS for holders.
4. Private DAO
MatrixGPT DAO empowers the token holders by granting them a voice, a vote, and a range of benefits. All investors in the $MAI Presale will have fully access to MatrixGPT DAO.
5. Buyback and burn
Part of the profits and utility fees will be used to buy back the tokens and burn them, preventing the token price from being dumped. Specifically, a 0.5% cut of the 1% Sell Tax is used to BUY BACK and BURN.
V. Conclusion
MatrixGPT is more than just an AI-powered art generator, it's a game-changer for the art world. With its cutting-edge technology, intuitive user interface, and innovative monetization options, it's no wonder why MatrixGPT is quickly becoming the go-to solution for artists and creative individuals everywhere.
AI Webapp: https://ai.matrixgpt.ai/
Telegram Ann: https://t.me/MatrixGPT_ann
Twitter: https://twitter.com/MatrixGPT
Youtube: https://www.youtube.com/@matrixGPT
Substack: https://matrixgpt.substack.com/
Gitbook: https://docs.matrixgpt.ai/
Disclaimer : There is no offer to sell, no solicitation of an offer to buy, and no recommendation of any security or any other product or service in this article. This is not investment advice. Please do your own research.
Media Contact:
Contact Person: Hilary
Company Name: MatrixGPT
Location : Singapore, Singapore

Email: dris@matrixgpt.ai
Website: https://matrixgpt.ai/

Original Source of the original story >> MatrixGPT Launches as a State-of-the-art Text to Image AI Application