Asia's largest two-day blockchain, exchange, cryptocurrency, DeFi, GameFi, online payment and investment event will be held in Singapore on February 16-17, 2023. As an invited institution, CFund Capital will participate in the whole process of this event, and Mr. Robert Levin, CEO of CFund Capital, will attend this event.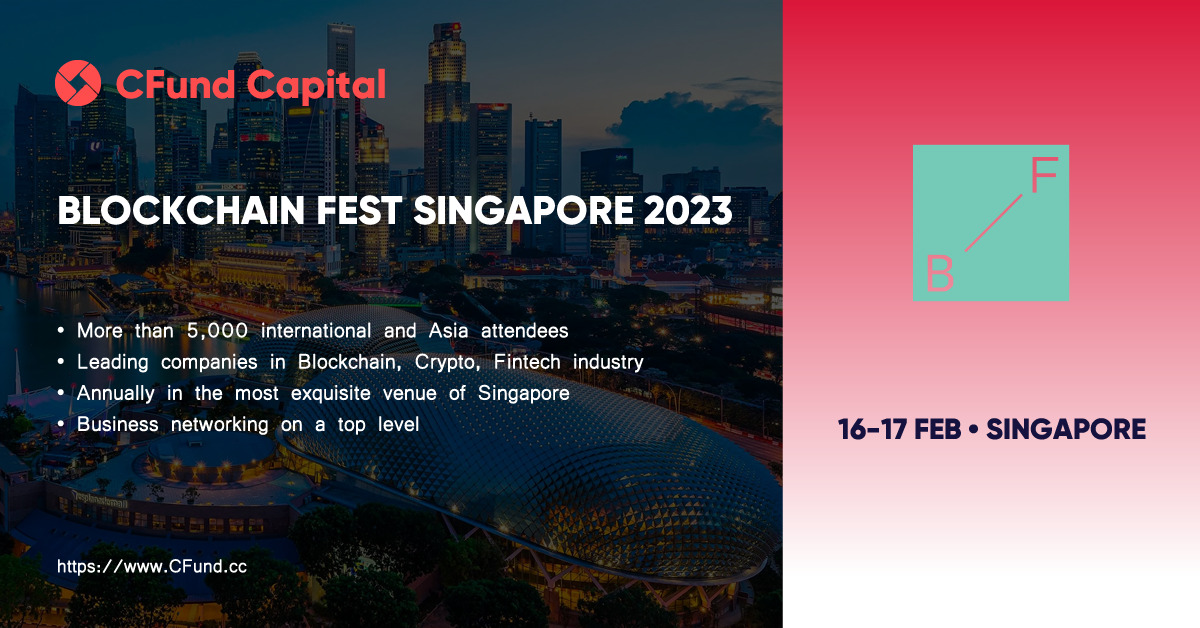 It is reported that the event will gather top professionals, global leaders from different fields such as blockchain, cryptocurrency, cryptocurrency exchanges, decentralization, and even beginners in the industry Finance (DeFi), mining, payment systems and Invest chose to attend the event in Singapore.
"From February 16th to 17th, 2023, thousands of people will gather at the Marina Bay Sands Convention and Exhibition Center in Singapore to participate in the 2023 Singapore Blockchain Festival, which is the most active event in blockchain." Robert Lay, CEO of CFund Capital Wen said: "Singapore is attracting people's attention as a global tourist hotspot and also as an Asian financial center. Blockchain experts and investors from other countries will join us to discuss the hottest topics in the crypto world under one roof, and will Take the industry to a new level."
As an invited institution of this Singapore Blockchain Festival, CFund Capital has always been a leading liquidity provider and encrypted asset management brand in the cryptocurrency industry. As of the end of November 2022, CFund has accumulatively served more than 1 million users and has been widely acclaimed in the industry.
"Through this event, participants will be able to increase knowledge, earn benefits, exchange insights and experiences, and learn first-hand skills from market leaders through P2P communication." Robert Levin, CEO of CFund Capital, said in an interview : "As one of the highlights of Singapore Blockchain Festival 2023, its relaxed and friendly environment will bring you opportunities to broaden your network. Don't miss this opportunity."
This is definitely a must-visit event if you are interested in investing, cryptocurrency trading, NFTs and the fintech industry. You can view the detailed program and participate in voting and forums at https://blockchain-fest.asia/. This is an opportunity to meet internationally renowned speakers as well as the best speakers from around the world. Blockchain Fest Singapore 2023 is open to everyone who is passionate about investing and trading cryptocurrencies and motivated to learn.
For more information about CFund Capital, please visit CFund website (www.CFund.cc) and CFund official Twitter account (@CFundCC)
Contact information:
Company name: CFund Capital Canada Inc
Email: sc@cfund.cc
City: Markham
Country: Canada
Twitter: https://twitter.com/CFundCC
Telegram: https://t.me/OfficialCFundcc
This press release may contain forward-looking statements. Forward-looking statements describe future expectations, plans, results, or strategies (including product offerings, regulatory plans and business plans) and may change without notice. You are cautioned that such statements are subject to a multitude of risks and uncertainties that could cause future circumstances, events, or results to differ materially from those projected in the forward-looking statements, including the risks that actual results may differ materially from those projected in the forward-looking statements.
Original Source of the original story >> CFund Capital Invited to Participate in Singapore Blockchain FEST 2023